Marathon instead of sprint... Controlling in times of digital transformation
Torsten Dobritz / Senior Issue Manager peritas
Controlling is a question of the virtuos handling of data and so the legitimate question is: What does digital transformation mean for controlling?
Gain information from data!
For controlling, digital transformation means that in addition to operating the core processes with which companies earn their money, an ongoing transformation process is established in order to be able to react to volatile market changes and market opportunities. As a result, decisions with effects on the ongoing operational and project planning are already frequently necessary today. These require budget allocations, lead to deviations from plan and must be represented and answered for before supervisory bodies. Controlling, which is primarily aimed at monitoring compliance with budgets and results, restricts entrepreneurial action in such dynamic environments.
Despite growing planning uncertainty, sustainable controlling must offer suitable control models for both the operation of core processes and ongoing transformation. This means ...
... Operation and transformation are separated into planning and reporting.

This is because the operating result is increasingly diluted by transformation efforts. This increases the lack of transparency and can lead to wrong decisions.
Transformation projects pursue strategic objectives, operational investments pursue operational objectives. This must be taken into account in the controlling processes of planning, controlling and reporting.

... the adherence to established planning processes is reconsidered,

on the one hand, to regain the entrepreneurial freedom of action
and on the other hand to maintain control in increasingly dynamic environments.

... Planning makes "change" the central object

Operational planning is based on run rates and projected changes. This means that "change" becomes an operational controlling object for both external changes that cannot be influenced and internal changes that can be planned.
Transformer expenses and investments serve to achieve strategic objectives. Strategic goals can also be determined by parameterizable changes. These parameters of "change" thus also become Controlling objects.
Permanent monitoring of these controlling objects not only provides feedback on the success of actions, but also allows
an ongoing forecast that can replace the established planning processes.
Such forecasts must allow partial plans to be increasingly substantiated during the year.

... the entire data processing in controlling, from collection to reporting, will be digitalised, i.e. no more manual reports!
... a monthly retrospective financial reporting is added ...

... by a continuous functional operational reporting, which is available online as a self-service
... strategy reporting, which monitors transformation expenditures in relation to the strategic goal achievement. Since the achievement of strategic goals can usually not be derived from accounting data, this information is missing in today's reports and should be integrated urgently.

... existing data in accounting and controlling systems are better used and additional information is integrated. The amount of data alone requires digital extraction and processing in suitable Business Intelligence Systems (BI).
... Controlling results become more relevant and concrete, e.g. in the form of process costs for controlling core processes and the concretization of the change that has actually occurred or been achieved compared to the predicted change.
... Results are questioned by stakeholders on their sustainability against the background of increasing volatility, uncertainty and complexity. In other words: what counts is no longer the size of budgets, but the appropriateness and competitiveness of expenditures.
The controller becomes an internal consultant who supports departments and management in visually presenting the right management information online in dashboards/cockpits at decision-maker level. This information is obtained by means of Business Intelligence (BI). The controller also becomes an agile developer who extracts increasingly relevant information (key figures) from a multitude of available data for controlling operations and transformation or makes this information available to stakeholders.
Paradigm Shift: From the Bach feeling to transparency!
This means digital transformation for controlling:
the digital extraction of all necessary data,
the elimination of any system break,
the integration of intelligence into systems,
the paradigm shift from gut feeling to transparency,
online instead of analogue,
Separation of operations and transformation.
It is a path that is also mapped out for controlling! If today's controlling models no longer suit your digitally transformed company, you have missed the right time for the changeover. You should definitely pay attention to this.
Adapting the control systems of a company is a big step! Especially if the planning and reporting processes have been sufficient so far. A paradigm shift from fixed budgets to change planning must be prepared throughout the entire company and with all stakeholders and must be accepted and understood by all. For the change to succeed, many aspects of the initial situation must be clarified, especially skill and will in controlling. Resistance to the abandonment of the familiar, to additional expenditure for the change and learning new things must be considered and worked on. Also, the new transparency aimed for can be opposed to many a self-interest. The conversion of planning and reporting must be prepared and accompanied step by step throughout the company. The connection of the controlling systems to digital sources can only be done step by step, just like the continuous processing and digital provision of the result data. The conversion should therefore be largely agile and adapted to the respective resource situation.
Practical implementation, a pragmatic approach ...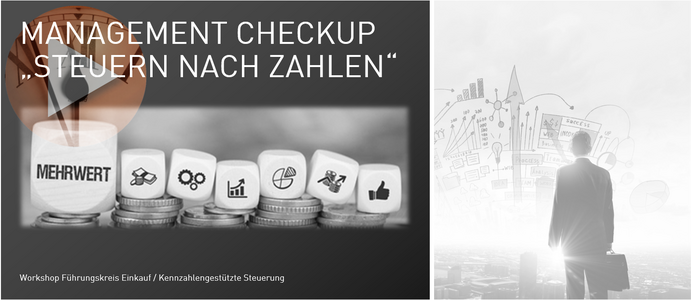 But how, when and where do you start? How do you manage the risks. What risks are there anyway? How do I communicate and sell the topic? What is to be done? Where do I start? Where do I want or need to go? Can and does the organisation even want to do this? Do I want to obtain this important core competence externally or build it up internally?
We have the right answers to these questions and can accompany and support you in the transformation of your controlling. Below is an overview of how we approach a project of this magnitude:
Briefing & introductory presentation
Moderated introductions for controlling users
Workshops / "... Control & Key Figures ..."
Fitness Check Controlling
Joint development of the target image
Control of the implementation project (project management)
Change Management / Team Development Controlling
Technical implementation consulting
Do you want to know if it is time to deal with changes in controlling? Then answer the following questions:
Do you work in a company, ...
... in which the controlling department submits manually prepared PowerPoint slides and Excel tables five to ten days after the cut-off date, based on target/actual comparisons and a non-transparent key figure?
... in which results meetings in management circles based on these reports leave a growing feeling of intransparency?
... which carries out up to six planning processes (medium-term, annual planning and four forecasts per year), which unduly occupy managers and top performers in particular?
... where agility and decision-making dynamics pose challenges to governance and budget processes?
... where the success of strategic initiatives is insufficiently measured and controlled?
If you answer YES to two or more of these questions, you should act. We will gladly support you in doing so. You can reach us HERE
Back